Addison Managed IT Services and Support
Cloudavize is an end-to-end technology solutions provider and a highly awarded outsourced IT company. We combine our knowledge, creativity, and agility to ensure your success. Our IT solutions assist businesses transitioning to the cloud, enhancing their operations on-premises by using Addison Managed IT services, and providing remote IT assistance around the 24/7 clock.
Cloudavize's IT Services in Addison: What to Expect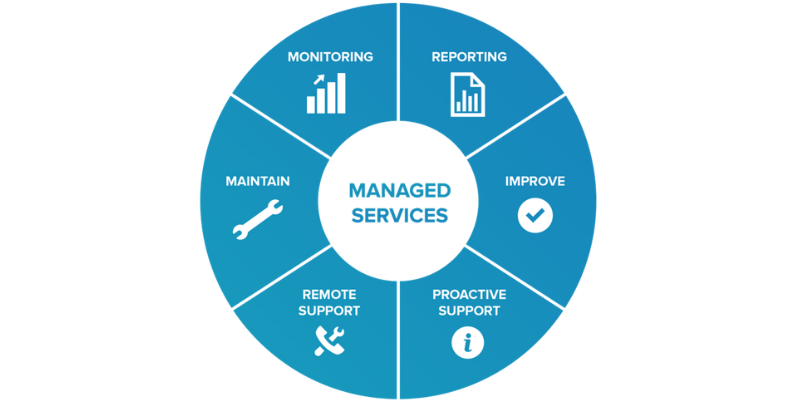 Why IT Matters: Proactive IT vs. Break/Fix
Stop believing the myth that hourly fees will always cut your cost. What if you encounter system issues every now and then? Plus, with this approach, businesses are not motivated enough to ensure preventative maintenance. Continuous IT assistance from a managed service provider means your system will run well as well, besides cost cutting. 

Downtime, decreased productivity, security breaches due to unpatched vulnerabilities, and discord within departments are hidden costs that a break/fix proactive strategy may accrue. The best way to avoid these problems is to take a preventative stance toward IT and ensure your Addison-based infrastructure is always up and running without any hiccups that might slow you down.

Where Do You Stand with our IT support?
As your IT partner, we'll analyze your business system to see whether you're taking advantage of all the ways technology can benefit your organization while minimizing the dangers of hacking, data loss, and service interruption. In today's business world, Managed Service Providers (MSPs) are crucial to any organization's long-term success.
When you sign up for Cloudavize's Addison Outsourced IT Support, you immediately connect to the team of professionals with a wide range of knowledge and experience, from first-line help desk technicians to cloud architects and chief information officers. In any IT setting, your team has access to the industry-best tech tools. Our method is not only safer than the conventional method of helping IT in-house, but it also saves businesses money and time cost.
Join hands with us today to keep pace with the latest trends & technology and future-proof your Information Technology (IT)! Book us a call at (469) 250-1667.
Our Addison Managed IT Services ensures a smoothly operated company with efficient employees, satisfied customers, and uninterrupted meetings. Custom-tailored technological solutions are provided to fit your business's scale and requirements, resulting in higher overall output.
Our Addison Outsourced IT Services allow you to access a team of experienced professionals, from help desk technicians to cloud architects and CIOs, without the need for in-house IT staff. This approach saves your Addison-based business time and money while providing the industry-best tech support.
Cloudavize Addison IT Services stands out due to its end-to-end technology solutions, proactive approach to IT management, and a team of experienced professionals dedicated to ensuring your business's technology infrastructure is optimized and secure.