By partnering with Cloudavize, your IT staff will have more time to drive growth. We will also generate new efficiencies, cut expenses, expedite operations, and other benefits. Investigate how the managed information technology services may support your infrastructure, productivity tools, and endpoints. We use tried and true methodology and extensive vendor connections to guarantee that your day-to-day operations are carried out without a hitch. This covers the whole infrastructure, from the core infrastructure to the endpoints and everything in between.
What Services Does Cloudavize Offers In Allen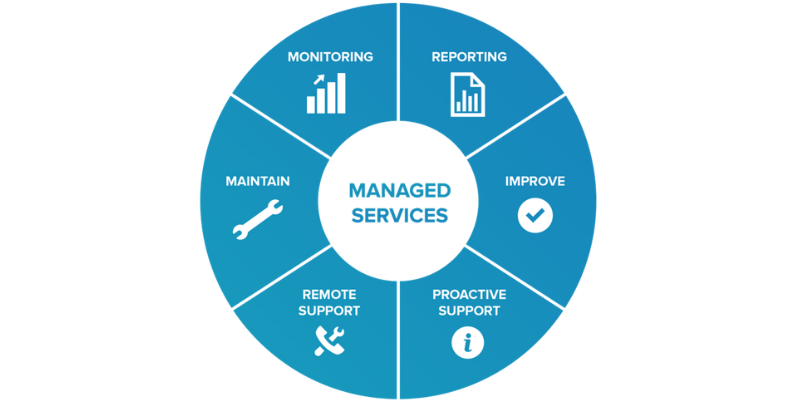 Why use Managed Services?

By shifting routine administration and oversight responsibilities from in-house staff to an external team with more advanced resources, managed services may boost efficiency and save costs.
Managed services provide 24/7 IT system monitoring for a fraction of the expense of employing a full-time staff member to keep a watchful eye on things in-house.
Further, it strengthens safety by shifting responsibility for protecting your network and data from a single individual to a group of people adhering to rigorous procedures and standards. IT security and monitoring make it easy for certain aspects to fall through the cracks when left to just one person. However, a managed services company is structured to oversee all aspects of your robust systems, monitor for potential or impending threats or malfunctions, and mitigate risks as quickly as possible—often before the risk becomes an actual problem.
It also makes your own IT department more efficient. It takes a lot of effort to monitor and manage your IT systems. You may free up your internal IT staff to concentrate on more strategic, long-term planning and problem-solving tasks by delegating this responsibility to an outside team.
Discover the Benefits of Managed Services with Cloudavize:
Having formed strategic alliances with key stakeholders at all levels, we can expeditiously escalate critical tickets.
In addition to standard IT helpdesk solutions, we also provide a wide range of value-added services, including advice on improving business assessments, bettering existing solutions, and evaluating the status of your data estate.
You may establish long-term competence by beginning with a CSM and one or two consultants and gradually expanding the team.
Get in touch with the team of architects here at Cloudavize and the rest of the people that make up our Delivery Team.
Respect your autonomy? You may become less reliant on Cloudavize's Managed Services team over time with their assistance in boosting user adoption and building a thorough knowledge base.
Cloudavize is committed to assisting organizations like yours in realizing their full potential and benefiting from the opportunities presented by the digital revolution. Are you prepared to make a change in your company? Okay, so let's begin.